Welcome to MSGC Arts,

 an interdisciplinary initiative established by Director Mark Moldwin in 2021. Our goal is to research, develop, and implement art-science programming with a space focus. Please check back for updates and see project info below.
Pilot Project: 
NASA Video Project for Elementary Students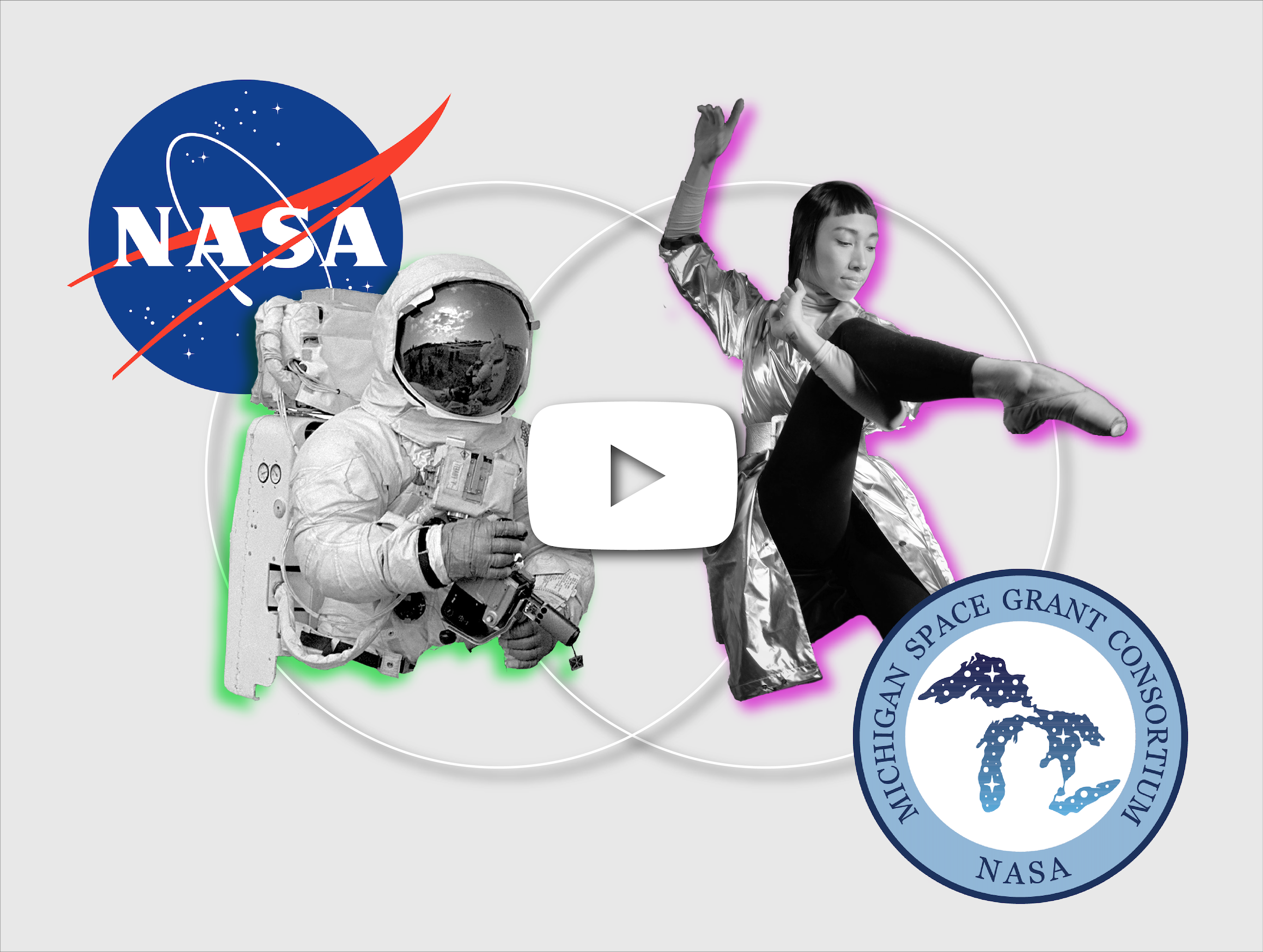 Details at a Glance
Project Timeline:  To by completed by May 2021
Apply: Application to Open February 26, 2021.
Award Amount: $250 honorarium
Questions? Email our project lead, Rachel, at rachlond@umich.edu
Project Description: Call for Collaborators
This pilot project is a four part art-science video series (each video will be 5-10 minutes) targeting elementary age students grades 3-5. Two videos, featuring ArtEngine's Mark Moldwin, will explore space related science. Each of these science videos will have a corresponding art focused video. The two art videos will feature an artist and accompanying art project, inspired by and in response to the space science videos. The Ann Arbor District Library, AA Public Schools, and the University of Michigan School of Engineering will distribute the videos through their YouTube channels. 
The goal of the project is to encourage young students to explore the relationship between art and science–with the hope that the videos also might appeal to an older audience. Secondly, as a pilot, our goal is to introduce MSGC to the public as an arts advocate. We want to use this project to further develop our relationship with local arts and science partners in order to lay the groundwork for future collaborations. 
Briefly Describe the collaborator(s) you are are seeking:  
We are seeking two artist collaborators. All disciplines/mediums are welcome. As a collaborator your role will be to create a hands-on art piece/project in conversation with scientist Mark Moldwin. Ideally, the art project will focus more on process than the final product–both in an effort to keep materials to a minimum, to keep the project accessible, and to highlight the more experimental nature of this program as a whole. The target audience is elementary age students grades 3-5, but we hope that the art videos can also engage a wider audience. For the video, you will lead the audience through your process and instruct on how to do the art project on their own. 
This project is currently in the beginning stages. While the schedule is still being finalized, we would like to identify two artist collaborators by mid-March 2021. Collaborators will be expected to spend about a month to a month-and-a-half on this project. Artists will have support with video production (with options to either film in a COVID safe manner or to self-record/film); MSGC will be responsible for pre and post production including editing, sound, graphics etc. 
What do you think your collaborator(s) will get out of working on this project together?: 
Similar to the Moldwin Prize Art/Sci Residency, artist collaborators will gain a greater understanding of research methodologies in the space and climate fields, communication techniques, and how the collision of disciplinary knowledge in the arts, engineering and sciences deepens the creative practice and production of each discipline. 
In addition, collaborators will gain experience in arts education through NASA's point of view and outreach tradition. This project is an opportunity to explore new methods of inquiry and demonstrate how collaboration lends itself to creativity. Collaborators will also gain experience adapting their practice to a virtual teaching environment–an increasingly important skill in the scheme of the pandemic. You will come away from the project with a professionally produced video featuring your art practice.  
More projects, events, and collabs coming soon!